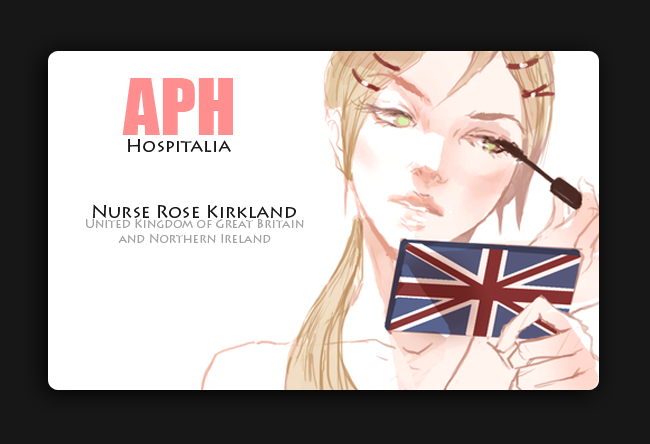 Same old white walls, always captive by them, barely having any breaks. Cries and moans of pain, even terrified screams echoed from the rooms and into the hallways. Not everyone enjoys the sight of needles, especially the kids. The first few years had been tough, but Rose got used to it all as time passed.
Flipping through the pages of her clipboard, she looked over the list of names she was supposed to be assisting today, giving insulin shots and whatnot.
Dr. Jones better not come late again today, for if he does, she'll no longer try to save the wanker's ass from getting fired like last time for that nearly cost her own job. She'd rather leave that burden upon Arthur's shoulders.
Rose focused her whole attention on the clipboard and hadn't noticed that she got in the lobby. It was a surprise she hadn't bumped into anyone or anything. She stopped in her tracks and looked over at the reception then focused her gaze on the clock on the wall.
Half past eleven.
Thirty more minutes until noon and her break when she would switch places with Arthur or any other nurse in the institution that agreed to take her shift. She heaved a sigh and looked over the next name on the page. "Viorica Dumitru...", she muttered the name in the usual British accent with a bit of difficulty since foreign accents weren't really her thing. She was her last patient until her break. She placed the clipboard under her arm and proceeded to walk towards the staff elevator.
________________________________________________________________________________
RP INSPIRED BY A TUMBLR ASK PAGE.
CLICK HERE
ALL ARE WELCOMED TO JOIN!
Jobs:
Spoiler:
Or claim your spot in the hospital yourself!
My characters:
Hungary - Elizaveta Héderváry: EMT
Fem!UK - Rose Kirkland: Nurse
Fem!Germany - Monika Beilschmidt: General Surgeon

Moscow - Dominika Braginski: Patient
Last edited by Terri Kirkland on September 3rd 2012, 1:03 pm; edited 4 times in total